Tut Sie Es Oder Nicht 75 - BB Video
Does she do it? You'll have to watch and find out if these bus stop sluts accept the invitation to appear in this video. How far will these ladies go in front of the camera? You know you want to find out what makes their pussies wet and juicy. Come watch them bring themselves to orgasm! Enjoy the show!
Tut sie es? Ihr müsst zusehen und herausfinden, ob diese Bushaltestellenschlampen die Einladung annehmen, in diesem Video mitzuwirken. Wie weit werden diese Damen vor der Kamera gehen? Du weißt, dass du herausfinden willst, was ihre Fotzen feucht und saftig macht. Kommen Sie und sehen Sie zu, wie sie sich zum Orgasmus bringen! Geniessen Sie die Vorstellung!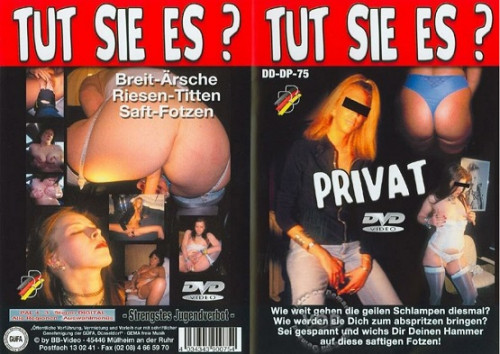 Genre: German, Deutsch, Masturbation,fingering,Female masturbation, Dildos,Amateur women,orgasm, Solo Girls, Pussies, Milfs,Solo, Pov, Sex Toys, k2s german 
Tut Sie es? Oder Nicht 75
Country: Germany  
Studio: BB Video DD-DVD-75)
Series: Tut Sie Es?
Studio:
BB Video